Welcoming and friendly apartment in Monteverde, 3 bedrooms, up to 6 people.
Enjoy Rome as a local resident, in an elegant district and saving money. Perfectly connected by public transport to the historic center of Rome.
- Comfortable, value for money and local experiences!
---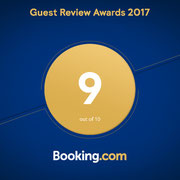 ---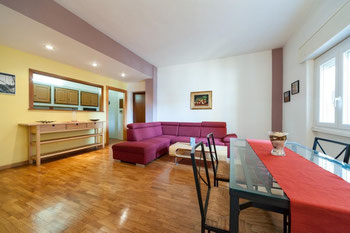 THE SPACE:
Furnished and tastefully decorated.
Fully equipped, real parquet floors throughout the house, 75sqm, two bedrooms, one single bedroom, one large living room with sofa bed, kitchen with fridge, oven and dishwasher, bathroom with shower and tub, washing machine, iron and ironing board. First floor with elevator and wheelchairs lift. Wi-Fi, heating, bed linen and towels. It is also provided a basic supply of food and detergents.
AMENITIES: 
Equipped Kitchen, Heating, Free Wi-Fi, Linen and towels, Hairdryer, Detergents and food supplies, Fridge, Freezer, Dishwasher, Washer-machine, Vacuum-cleaner, Wheelchair elevator, Books.
OTHER THINGS TO NOTE: 
Check-In: after 1 pm 
Check-Out:  before 11 am
Accomodates: 6 people (Bedrooms: 3; Beds: 4; Bathrooms: 1)
Property type: Apartment
San Camillo and Forlanini Hospitals 5 minutes away
ADDRESS:  ViaFerdinando Palasciano, 72
THE NEIGHBORHOOD:
Monteverde is a neighborhood just outside the center, but comfortable and full of activity, as is fitting for a big city neighborhood. Located on a hill, about 80 meters above sea level, it began to be built in the late '800 and early' 900, with villas and cottages for the Roman High Bourgeoisie. The construction of the most populated buildings began around 1930. Until the '50s the area was considered a suburb of the city, ideal for "outings", also thanks to the large green areas of the Janiculum, Villa Sciarra and Villa Pamphili. Monteverde is a chic district without ostentation, is one of the most elegant and refined residential areas of Rome and its residents know it well. Its isolated location makes it a destination less frequented by tourists, but that does not mean it's inhospitable , it is an area in which to live comfortably: its restaurants are great, the people friendly, the shops stocked, many bars , pubs and places to enjoy a good coffee, a drink, an ice cream, or hand-made pasta and desserts, in short, the food here is good and genuine. You will find artisan shops and small markets where the atmosphere is friendly. Monteverde is a little-known neighborhood for those not living in Rome, but waiting to be discovered and visited, making live a real local resident experience of Roman life, and those who come to live here hardly goes away. Finally, it is also one of the neighborhoods with the best views of Rome, on top of all the Gianicolo.
The location is convenient for public transport. In fact, just 300m is the stop of Tram No. 8 or bus H with which you can reach the center of Rome, Termini Station or Trastevere Station. At Piazza S. Giovanni di Dio there are also many other lines of public buses that connect with many other areas of Rome (Vatican by buses 30 and 31.)
The nearby Via Jenner and Via dei Colli Portuensi are popular areas for shopping, to Piazza S. Giovanni di Dio takes place an outdoor market, Villa Pamphili is just a few hundred meters, and every Sunday morning the largest of Italian flea market Porta Portese, at only 10 minutes.
The whole neighborhood around is full of shops, bars, restaurants and nightclubs.
ACCESS AND RULES:
We can reserve a car trasfer from Airports to the apartment. It costs €50 1-3 people, €65 4-8, people, +€5 between 22-06.30 (no commission to us, just a favor to you)
We apply the "self check-in" formula which guarantees complete freedom and independence for guests.
The apartment is rented only for full and exclusive use. The owner will be reached by phone or email. WI-FI, heating and taxes included. 
The minimum stay is two nights, but if we have a single night free between two bookings can allow even a single overnight stay!
We do not have a specific policy for the noise, but you are asked only due respect for the neighbors. The apartment is not sub-rentable for group parties.
HOW TO REACH THE APARTMENT:
We have a car service to/from airports, €50 1-3 people, €70 4-8 people, +€5 between 22-6.30; we do not take any fees, it is only a favor to our guests.
Official taxis can be easily found at any airport or train station, the taxi from either airport takes about 40 minutes from Termini Station about 20 '(traffic apart!)
With regard to public transport for the apartment:
From FCO airport take the TR1 regional train and get off at Trastevere station, then take the tram 8 and get off at San Giovanni di Dio, then walk along Via Palasciano.
From Ciampino airport take the Terravision shuttle bus to Termini station, then bus H to the stop "San Giovanni di Dio", then walk along Via Palasciano.
By car: from the GRA (GRA) / A-90, take exit 1, Aurelia, direction center, follow Via Leone XIII, Circonvallazione Gianicolense and at Piazza San Giovanni di Dio, turn right on Via Palasciano.
MAP:
Via Ferdinando Palasciano, 72
RATES:
All Seasons: € 55 - 75 x night, including taxes
Festive Season: € 90- 100 x night, including taxes
Added guests: € 15 x night x person, after the first 4 guests
Cleaning Fee: € 50 x stay
City Tax: € 3,50/pers/night
Discounts applied!
Cancellation policy: any bookings canceled up to 1 month before the stay will be redeemed at 100%; Cancellations must be made within 12 CET (Central European Time) on the day appropriate.